A leader in pipe relining, our technicians deliver prompt, affordable pipe relining and trenchless pipe rehabilitation solutions to all customers in Brisbane.
Our pipe relining Technicians work on a wide range of issues including sewer pipe relining, leak detection, clearing blocked drains and relining broken drainage pipes.
Pipe Rescue has a licensed team of Brisbane based blocked drain specialists who possess a broad range of experience in all things pipe relining and blocked drains.
So if you're tired of blocked drains and leaking pipes, call us now and we'll have a Brisbane plumber out to you today.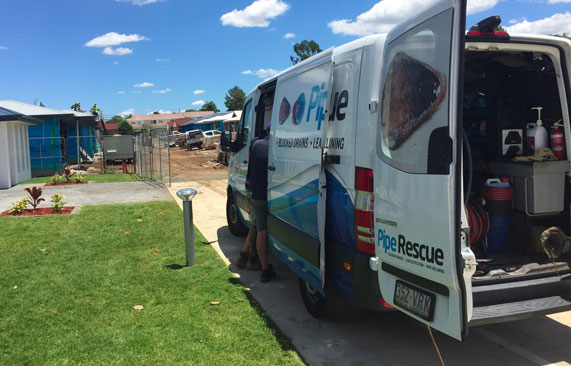 PIPE REPAIR AND LEAK DETECTION, BRISBANE
When it comes to plumbing, the ideal place for your pipes is somewhere totally inconspicuous. For most people, this is in the walls, under the house and, inevitably, underground. However, what you can't see may be costing you! To tell you to keep you pipes exposed, would be ludicrous, which is why, at Pipe Rescue, we can carry out a CCTV inspection and assessment of the current and potential problem areas in your plumbing. This includes leakage, blockages, and moisture damage. Using the latest in CCTV detection equipment, we can give you a full report and advice on the best way to move forward. But why stop there? We can take on your repairs and the implementation of precautionary measures, too!
SEWER RELINING
At Pipe Rescue, we are Brisbane's pipe lining experts. Our professional pipe relining solutions keep new pipes tactile for longer, while offering a permanent, long-term solution to your older, leaking pipes. As a pioneer of the pipe relining trade, the owner of Pipe Rescue has over 35 years of specific industry experience.
Our favoured pipe lining product, Nuflow is produced onshore and is specifically designed for the harsh Australian climate and the conditions of our terrain. The only one of its kind made here in our country, this ground-breaking resource is backed by a 50-year warranty! The Nuflow system has been installed in over 7,000 instances over that past 15 years so you can rest assured that the quality of this product is nothing short of the best.
NO DIG, TRENCHLESS REPAIR
Why put yourself under the financial pressure of digging up your broken sewers, pipes and stormwater pipes? Not only is this process extremely expensive, it also chews up your time. You won't believe the difference in cost when you're quoted on a Pipe Rescue trenchless repair! With the most up-to-date relining techniques, materials and equipment, our experts can repair your damaged piping without a single shovel! This means that the mess and fuss of back yard or driveway excavation is a worry of the past.
LATEST NEWS
This is our news section where we will post occasionally on all things plumbing, pipe relining, blocked drains and anything we think is noteworthy.